Manufacturer:&nbsp
Casio
Model:&nbsp
121-B
Year:&nbsp
1970
Form:&nbsp
Desktop
Functions:&nbsp
Basic four, accumulator
Number of Digits:&nbsp
12
Display Type:&nbsp
NIX
Display:
Hitachi CD71
Logic Technology:&nbsp
DIS,SSI,MSI
Memory Technology:&nbsp
MSI-MOS
Diodes:&nbsp
186
Transistors:&nbsp
14
Principal ICs:&nbsp
JMOS (HD3100,..)
IC Complement:
Hitachi HD3103 (7), Hitachi HD3104 (2), Hitachi HD3106 (6), Hitachi HD3112 (1), Hitachi HD3117 (1), NEC µPD101C (2), NEC µPD116C (1), unknown SSR0109/H7444A (1), Toshiba TM4351 (8)
Toshiba T1191 (1)
Toshiba T4097 (3)
(33 total)
Tech. Data Level:&nbsp
2
Tech. Data Source:&nbsp
RE
Tech. Data Pages:&nbsp
10
Tech. Data:
view (PDF)
This page is based on information and photos supplied by Mick Metselaar in the Netherlands. Mick did a reverse engineering of the calculator to assist in repairs. Mick also provided some notes about his efforts.
There is no decimal point key on this calculator, so only integers can be entered. The decimal point is, however, displayed appropriately for the result of divisions. Eliminating so much decimal point management simplifies the control state machine considerably. This, together with the use of several MSI IC's, contributes to the relatively low component count of the 121-B.
Notes:

This model uses negative-true logic, so the logic functions of the JMOS ICs are inverted relative to the pinout diagrams presented on the IC pages.
See the Casio 121-B simulation.
The calculator displaying the results of 4 / 3.

Board 1 - upper circuit board.

Board 2 - lower circuit board.

Closer view of the display.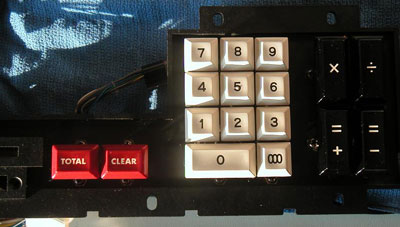 Keyboard - top view.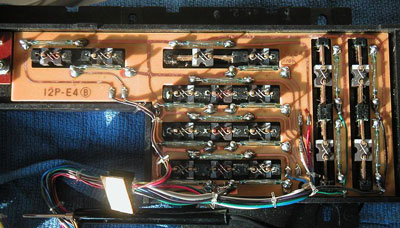 Keyboard - bottom view.

Power supply board.

---
- Unit Log -
| | |
| --- | --- |
| Serial Number:&nbsp | ? |
| Year of Manufacture:&nbsp | 1970 ("0K" stamped on IC) |
| Date of Receipt:&nbsp | 2006 |
| Source:&nbsp | Information only, provided by M.M. All repairs by M.M. |
| State upon Receipt:&nbsp | Non-functional. Display presents all-zeroes with all decimal points lit. Numeral keys are not entered in the display. |
| Current State:&nbsp | Fully functional (Jan 2007). |
---
| | |
| --- | --- |
| Date:&nbsp | Nov 2006 (by M.M.) |
| Symptoms:&nbsp | Pressing the numeral keys does not change the display. |
| Solution:&nbsp | IC 2-2J1 (HD3317 shift register) replaced. |
---
| | |
| --- | --- |
| Date:&nbsp | Nov 2006 (by M.M.) |
| Symptoms:&nbsp | All decimal points are lit simultaneously. |
| Solution:&nbsp | Traced to some bad connections on the lower PCB. Resoldered. |
---
| | |
| --- | --- |
| Date:&nbsp | Jan 2007 (by M.M.) |
| Symptoms:&nbsp | Multiplication and division do not work properly. |
| Solution:&nbsp | Bad connection in signal path leading to pin 9 of IC 2-2M1 (HD3112). Resoldered. |
---
---